Art Painted Bottles Supplier - Sensations In Glasses
Posted by Admin on July, 17, 2020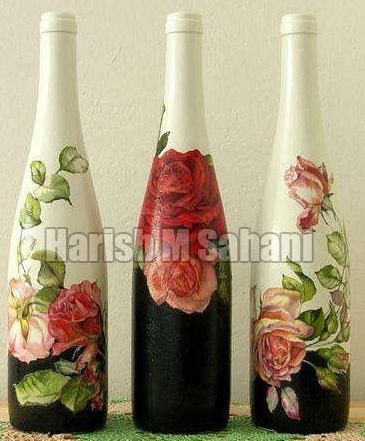 Bottles when painted best possible use it the décor items, add a little charm to the curve where they are placed. Bottle Art is a massive subject and there are a lot of ways to beautify and paint these.

Printing on glass bottles sounds simple but their process involves printing organic ink directly onto your bottles, not on a sticker. Once you experience this difference you'll wonder why it took you so long to make the jump to order it from the art painted bottles supplier.

Different types of bottle arts printing used by art painted bottles supplier in Maharashtra

Doodling
The Simple Meditative technique of Doodling is one of the easiest ways to decorate bottles. For these bottles, they drizzled Fevicryl Acrylic Colors into the bottle and whirled it. Then, they doodled numerous designs using Fevicryl 3D Cone outliners.

Trees with 3d paints
Trees are a lovely subject to work with on bottles. To draw trees, silhouettes, flowers, etc, Just pick up Fevicryl Acrylic Colors, sponge dab these onto the bottle.

Mixed media
Mixed media is a wonderful painting technique where you use and blend various mediums along with a few embellishments. To make these bottles, I stuck a few beads, accompaniments and charms onto the bottle using Fevicol. Using a sponge to dab Fevicryl Acrylic Pearl paints and Fevicryl Acrylic Pearl Metallic paints to give the bottles a rustic look.

One stroke painting:
One stroke painting is one of the coolest ways to decorate any surface. After smearing a base coat, you could also work with any designs that you have and fill up the designs with Fevicryl Acrylic Colors. This can be followed by outlining the designs using Fevicryl 3D Outliners.

Embellished bottles:
These bottles make amazing gifts for parties. Picked up Fevicryl Acrylic Colors and randomly covered the surface of the bottle by sponge dabbing.

Fabric decoupage on bottles:
An ethnic touch can be added to bottles by using these meditative Mandalas.

Decoupage coloured fabrics onto the glass bottles by glueing cut fabric pieces using Fevicryl Fabric Glue. After which, enhance the article by adding finishing touches with Fevicryl 3D Outliners.

Qualities of an ideal art painted bottles supplier in India

• They must have the specialized process that allows for greater efficiency, quality and beauty in the final product.

• They will yield incredibly vivid colours you didn't think were possible when printing on glass bottles. They must provide the smoother, glossier and more impressive final product but it also provides greater colour matching outcome so you rest certain the logo you've driven so hard to develop will be the logo that seems on your bottles.

• They must ensure your budget is intact and your bottles are delivered on time.

• They must understand and appreciate your goals and work with you to get you the results you were hoping for.

• Bottle print they provide their clients with an unmatched experience but we also want to take care of the environment along the way, that's why our specialized process leaves a smaller carbon footprint because every little bit counts when it comes to this great world of ours.

• Altogether they must provide the Quality, efficiency; design and delivery are what you can expect when working with Bottle print.
This entry was posted on July, 17, 2020 at 18 : 01 pm and is filed under Art Painted Bottles. You can follow any responses to this entry through the RSS 2.0 feed. You can leave a response from your own site.