Screened Sand Supplier – Important Product For All Types Of Construction Needs
Posted by Admin on September, 10, 2020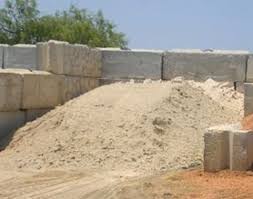 Screened Sand is small in size in comparison to Arena Sand, but bigger than Washed Sand. It does not have the large particles like Arena Sand but does have some of the clay fines (about 2-3% measured on the #200 sieve screen) that are naturally cleansed from the Washed Sand. It is very similar to the sand you would find at a beach, can be used for sandboxes and is used under pavers as bedding sand.

This is used for bedding around pipes, concrete mixing, adding to vegetable gardens and flower beds to loosen soil and any other application where sand is required as fill. Different grades of screened sand, septic or asphalt sand; concrete sand or pit run sand, varying in price supplied by the Screened Sand Supplier.

Common uses of the screened sand supplied by the Screened Sand Supplier in India

1.Cleaning
Screened sand can be great for keeping things clean. For example, some grades are used as septic sand to help filter out bacterial waste in septic tanks. Some sands can also be used to help absorb oil leaks to prevent concrete staining.

2. Construction
Similar to crushed aggregate, screened sand can serve several purposes in construction. Often, the substance will be used to provide an even, fine base underneath concrete slabs. Due to its fine composition and bonding abilities, screened sand also makes excellent filler for pavement joints.

3. Sandboxes
Sand supplier filling up a sandbox with ultra-fine screened sand will leave your kids happy and comfortable. Additionally, it will also help with drainage if the sandbox gets wet. Just make sure to request a grade that has been cleaned.

4. Landscaping
Screened sand can be beneficial for your lawn if you use it as topdressing for your turf. After applying a thin layer of sand, the fine particles integrate with the soil, helping to aerate the dirt and encourage healthier grass. It will also promote decomposition to prevent grass build-up.

5. Sports
Screened sand is an essential resource for many popular sports. For instance, it can provide the perfect high-impact surface for volleyball courts and horse arenas. It is also found on many golf courses.

Benefits of Screened sand
Asphalt sealer without sand is very slippery. People and vehicles will tend to slip on the pavement even with the slightest amount of water. It is not unusual for lawsuits against property owners and tarmac contractors to occur in cases of injury due to pavement sealed without sand.

Below are some of the benefits of screened sand filling
• Increases solid content
• Improves skid resistance
• Improves durability
• Decreased sun glare
• Competitive product
• Improves the appearance of minor deformities

Qualities of a good Screened Sand Wholesale Supplier

• They must assure to give the best quality of screened sand that would meet all the needs and conditions of the customers.
• They provide screened sand at a very cheap and affordable price.
• They should take care of the packaging and safe delivery.
• They also offer flexible and safe payment options.
This entry was posted on September, 10, 2020 at 11 : 26 am and is filed under Screened Sand. You can follow any responses to this entry through the RSS 2.0 feed. You can leave a response from your own site.